Dear Friend,
Are you tired of trying over and over to find the perfect forex trading strategy?
... Or maybe you've been trading for a while, and struggling to get consistent profits?
Do you ever wish you could just sit back and watch your account grow without lifting a finger?
Look NO further – Pip Collector EA is the solution you've been looking for.
Pip Collector EA is not just a trading robot. It's a complete, high-performance forex robot that will change the way you trade.
My brand new, 100% automated forex robot is ready to skyrocket your trading profits, 24/7, even while you sleep!
Pip Collector EA Live Performance
Verified by Myfxbook!
Take a Look at 2022/2023 Rock-solid Backtest Results
EURUSD backtest from 1/1/2022 to 03/31/2023 ~ 96.59% win rate
| Parameter | Result |
| --- | --- |
| Initial deposit | $1000 |
| Total net profit | $1572.80 |
| Profit factor | 7.0 |
| Maximal drawdown | 7.02% |
| Profit trades (% of total) | 96.59% |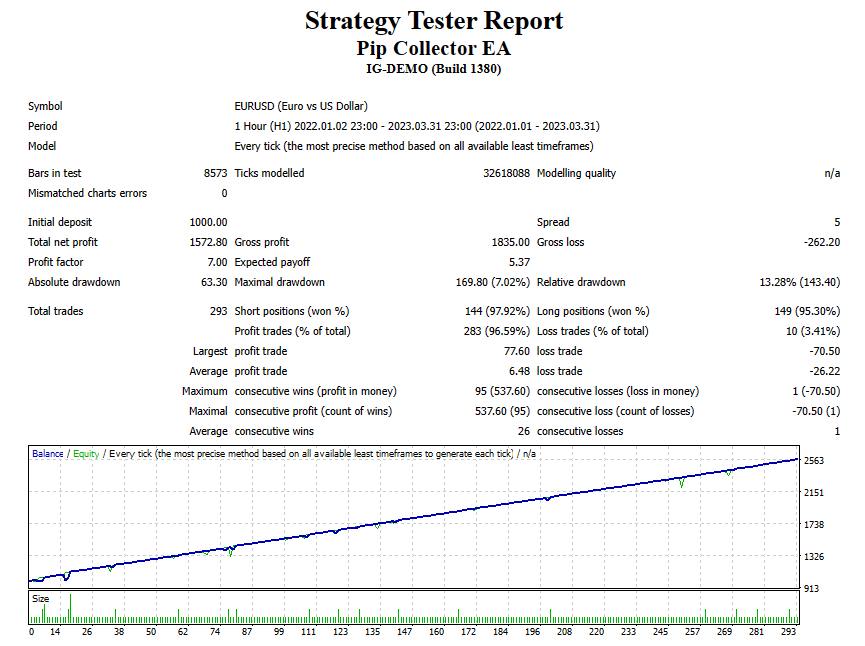 GBPUSD backtest from 1/1/2022 to 03/31/2023 ~ 91.85% win rate
| Parameter | Result |
| --- | --- |
| Initial deposit | $1000 |
| Total net profit | $1665.80 |
| Profit factor | 3.5 |
| Maximal drawdown | 14.8% |
| Profit trades (% of total) | 91.85% |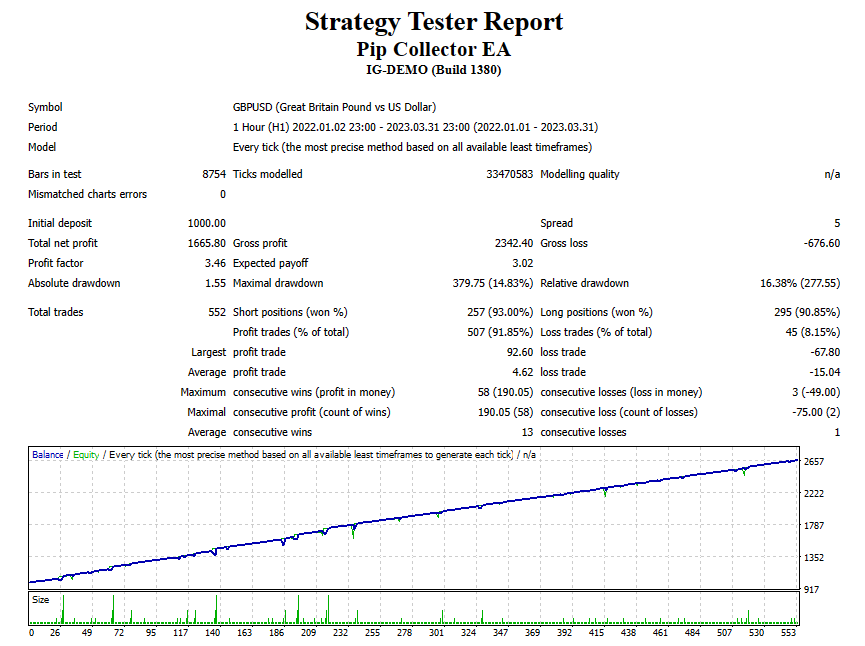 Pip Collector EA is a complete and innovative trading robot for currency traders who want speed, accuracy, and consistent profits.
I made this robot using a rare combination of trend and countertrend strategies, smart money-management, dynamic trading parameters and rapid trade execution.
Pip Collector uses a dynamic trading logic to analyse charts to find the best trading signals, then executes and manages trades automatically based on its built-in algorithm.
No need to sit in front of your computer all day.
Everything is FULLY automated, completely beginner-friendly, and proven to generate PASSIVE income for many, many years to come with safe risk management.
Watch the Full Pip Collector EA Walkthrough
Why Pip Collector Forex Robot? Here's Why:

Dynamic Trading Logic - The EA is programmed to automatically adapt to the current market conditions and execute precise entry and exit trades. The critical trading parameters like Stop Loss, Take Profit, Trailing Stop and threshold values are dynamically calculated and managed by the EA in real time.

No Martingale - The EA uses a smart Fixed Lot trading mechanism and does not use a Martingale or Grid system for money management.

Risk Management - The EA uses 3 different types of trailing stop functions to lock in profits at optimal levels in order to maximize profits.

Optimized Set Files - Pip Collector comes with ready-to-use set files for each supported currency pair that have been tested and proven to produce the best results. You don't have to waste your precious time adjusting the EA settings. Just load it up and use!

Drawdown Protection - The EA exit logic uses highly effective drawdown protection algorithms to close out all trades at optimal profit levels.

High Frequency Trading - The trading algorithm can execute more than 5000+ trades a year steadily and profitably growing your account.

Advanced News Filter - Avoid high/medium/low impact news events for "X" number of minutes. You can turn it off or avoid news for as many minutes or hours prior to or after the news event as you want.

Smart Recovery System - Pip Collector EA is equipped with a smart recovery system that opens recovery trades to compensate for any potential losing trades.

Slippage Protection - The EA is optimized to execute trades quickly at the right moment, lowering the possibility of slippage with each trade.

Spread Protection - Pip Collector's dynamic calculation sets the correct trading parameters and executes your trade without you having to do anything. This ability lets you lock in your profits and take advantage of even the quickest spread opportunities.

Detailed User Guide - We've included a detailed user guide that will tell you how to install and use the Pip Collector EA.

Customer Support - I put this as a key element because I'm not only the developer but also part of the customer support team. If you have any questions about the robot, please don't hesitate to contact us..
Pip Collector™ sold over 7,000 copies now, making it one of the best forex trading systems worldwide.
We became so popular in the Forex community for a reason.
Because we keep developing and we keep ensuring maximum profitability for our community.
Pip Collector is, hands-down, as powerful, proven, and profitable as anything you'll find available on the commercial market – nothing else money can buy comes close to what this is capable of.
Put it to work for you today – see results before you go to bed tonight.
Now is the best time to take your trading to the next level.
Happy trading!
ChinEtti
Sincerely,
ChinEtti
Is it a one-time payment?
Yes! There are NO recurring or extra charges.
I am new to Forex trading. Can I use this Robot?
Absolutely! This EA takes 5-minutes to install, run and start earning money. No need to be professional. We also offer our help and we will do our best to support you.
How do I get the product after buying?
After payment, you will receive the product in a zip file via email.
How does the License work?
You can use the Pip Collector EA on 1 live account and 1 demo account at the same time.
Can I use the robot with any broker?
Yes! You can use any broker that offers the Metatrader 4 trading platform.
Can Pip Collector work when I am away?
Yes! It can work 24 hours per day from the market opening on Monday to the market closing on Friday. You don't need to monitor you trades. The EA will monitor the trades, open and close positions automatically.
How often does the EA trade?
This depends on the market conditions, and how many accounts you are running. Generally, it gives 4-8 trades per week per pair.
What is the minimum deposit?
You can start with as little as $10 on a nano account, $100 on a micro account or $1000 on a standard account.
Can I use this on my phone?
You cannot use this on your phone. The EA works on the MT4 trading platform, which requires a PC or VPS.
Does the price include future updates?
Yes, of course. We are always hard at work making improvements and adding new features to the system. Any future updates to the system are free.
What is the refund policy?
Since selling trading software, which is not a tangible good or service and can be replicated immediately after the sale, we do not accept returns.