The RSI Stochastic MA Expert Advisor (EA) is an advanced trading robot that integrates 3 key indicators: the Relative Strength Index (RSI), Stochastic Oscillator, and Moving Average (MA). Designed for multi-asset trading—from forex to commodities and equities—this EA offers traders an all-in-one automated trading solution that goes beyond basic buy or sell signals.
The 3 indicators serves multiple purposes. The RSI gauges overall market momentum and indicates overbought or oversold conditions. The Stochastic Oscillator adds another layer of momentum analysis but focuses on closing prices in relation to the asset's trading range over a given period. The MA, often configurable as either a Simple Moving Average (SMA) or an Exponential Moving Average (EMA), offers a smoothed line to identify the prevailing trend direction.
The RSI Stochastic MA Expert Advisor typically generates a buy signal when the RSI is above a predefined threshold (often 70), the Stochastic lines have crossed in an upward direction, and the price is above the chosen MA. The converse is true for a sell signal. The integration of these three indicators aims to reduce the number of false signals, thereby increasing the overall strategy's reliability.
Customization options are one of the major advantages of this Expert Advisor. Traders can tweak the parameters of each individual indicator, specifying the periods for the RSI, Stochastic Oscillator, and MA to align with their unique trading strategies. Whether you're a day trader, a swing trader, or a long-term investor, the RSI Stochastic MA EA can be tailored to meet your needs.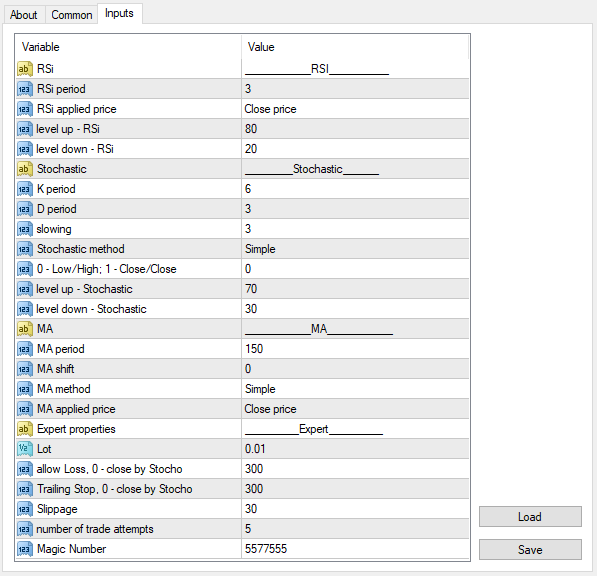 Risk management is also streamlined with this EA. Predefined take-profit and stop-loss levels can be set up to manage trades automatically. Advanced versions may include features like trailing stops and dynamic lot sizing based on the account's risk profile. Before deploying it in a live trading scenario, it's vital to not only backtest but also monitor the EA, especially during volatile market conditions or major economic events.
This Download is for VIP Members Only. Not a VIP Member? Join & Get Instant Access Now.