The Marco Martingale Expert Advisor (EA) is an advanced robot that uses a combination of modern technical indicators along with the classic Martingale strategy. This EA is built using indicators such as T3, Fibo Pivots, RSI, ect. It takes a dynamic approach to trading, aiming to capitalize on market momentum, support and resistance while managing downside risk through the Martingale technique.
In the core strategy of Marco Martingale Expert Advisor, a losing trade is followed by a trade with a doubled lot size, and this process continues until a winning trade is achieved, at which point the lot size resets to the original amount. The EA uses additional technical indicators like Ichimoku Cross and Schaff to better time its entry and exit points, making it better than a simple Martingale system.
One of the strengths of this EA is its adaptability. Users can customize the Martingale multiplier, set the initial lot size, and specify the technical indicators to be used. Whether you're a risk-averse trader or someone willing to take on higher levels of volatility, you can adjust the settings to suit your specific needs.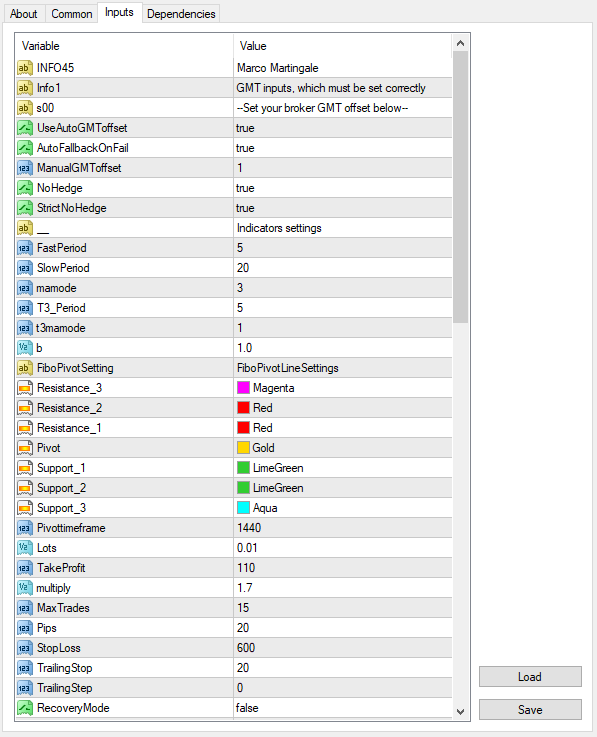 Risk management is a crucial component of the Marco Martingale EA. The EA allows traders to set predefined take-profit and stop-loss limits, alongside a maximum drawdown level, to automatically safeguard against severe losses. Some advanced versions even include a feature that pauses trading after reaching a certain loss limit, requiring manual intervention to resume.
However, the Martingale strategy has inherent risks, such as the potential for significant drawdowns. Therefore, it's essential for traders to backtest this EA extensively on historical data and perhaps even on a demo account before going live.
This Download is for VIP Members Only. Not a VIP Member? Join & Get Instant Access Now.